One of the most critical values of our operations is the fostering and diffusion of sustainable practices . As a society, our impact on the earth is evident and we found ourselves in a socio-environmental crisis of global scale. Thus, we employ various key techniques to achieve our goals of sustainability. With the basis of ecological conservation, strengthening of communities and organic agro-forestry we offer ourselves as an example for the planet and its uncertain future.
Carbon Neutrality
In the drying process of cacao we use an industrial wood furnace. The wood comes from road maintenance and pruned trees as part of the maintenance operations of the municipality. This process assures that the fuel source is 100% renewable.
Fair Trade
The fair trade certification supplies a variety of benefits to the Talamancan community. Every year a new project for the wellbeing of the people is carried out. Premiums from the sale of fruit are invested in social projects and infrastructure for the GPO and benefit the entire community.
Organic Agriculture
Organic agriculture is critical in the preservation of soil and nearby eco-systems. With natural composts from the forest, the rejection of agro-chemicals and toxic pest and herbicides the soil is protected in its microorganism rich state. Therefore, the soil in its most healthy productive state, and everything that surrounds it is conserved.
Nivel de Produccion English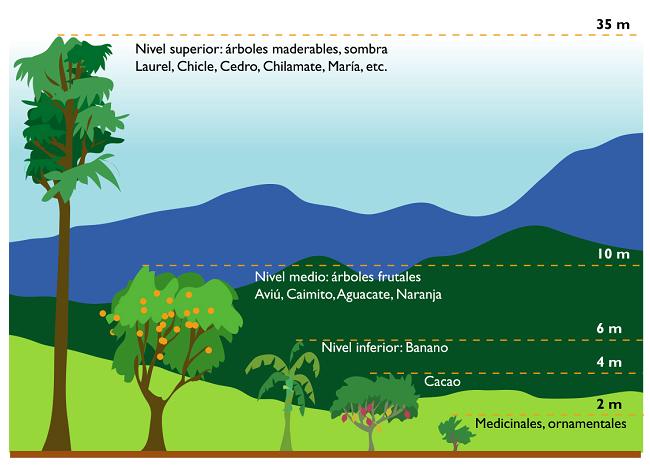 Agro-forestry
The natural habitats of wild animals are disappearing day by day. Deforestation contributes a high percentage to climate change and the loss of biodiversity. Agro-forestry is the most favorable kind of agriculture for the protection of these natural habitats. With an intact forest canopy and a variety of fruit trees below it, the forest environment is preserved and its inhabitants continue to have homes.
Equity
APPTA has a democratically based management system. In other words, as a cooperative, all of its producers and participants have the right to present themselves and have a voice in the decision making process.